07 Apr

I'm back!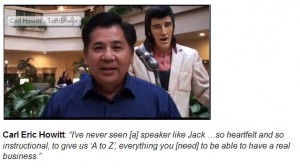 I am back in the office after an incredible three days in Atlanta.
Together with a group of serious Forevercashers, I was change lives and help my friends get control of their finances. During three days, I explained in detail what my "Forever Cash" method is all about – escaping the Hamster Wheel of Financial Hell and putting you on the path to creating freedom and wealth.
What kinds of things did I talk about at my seminar?
Day 1: Forever Cash Foundations
The detailed concepts of "One-time Cash, Temporary Cash, and Forever Cash.
How the "Wealth Wheel Method to fast Forever Cash Freedom" works.
How you can turbo charge your wealth Wheel
How most people are approaching their finances backwards and how to fix it and advance much faster.
Day 2: Making Money
How to make more money right now and where you are inside and outside your job
You'll learn how to identify what is the right "make money" activity for yourself.
I will show how you can make an extra $50,000 to $200,00 a year part time from home
We will go through several specific ways to make those $50,000 to $200,000 so that you are prepared to walk out and implement your plan
You'll learn how to cut 2 years of your learning process and make money FAST.
Day 3: Forever Cash Investments
How to really tell a good investment from a bad one
How to learn to avoid losing money (this is just as important as anything else)
How to manage the managers of your forever cash investments so you don't have to do anything and can truly enjoy Forever Cash Retirement
What my Favorite kinds of Forever Cash Investments are and how to get them cheap
Overall you'll receive in-depth training on how to analyze investments and be able to make money decisions fast.
Laura, a Forevercasher who attended the academy, said: "[I] LIKED that A LOT! Remarkable! Life changing."
This was the second Forever Cash academy, and I tried hard to make it the best ever.
Why not attend the next one? I'll give you the details here as soon as we organize it.
To your success…